On November 20, 2020, Dr. Meng Xin, CEO of BRICH Technology Co., Ltd. and Executive Deputy Secretary-General of the Belt and Road Productivity Cooperation Center of Zhongguancun Association of Strategic Emerging Industry, attended the Sino-Swiss Economic Forum (SSEF) 2020 with former participants of the Zhongguancun International Talent Training Program. The SSEF provided an international cooperation platform for Zhongguancun enterprises to go abroad.
In the two panel discussions held that evening, moderator Tian Wei discussed innovative sustainability initiatives with executives from Swiss multinational giants such as Nestle, ABB, Swiss Re and SGS, as well as Chinese business leaders from technology giants such as Alibaba and Fanmei Packaging.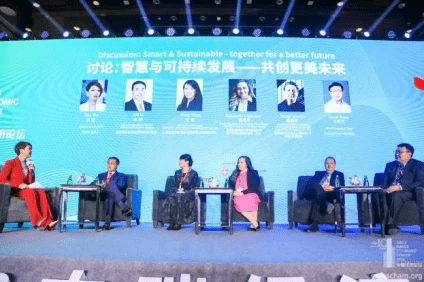 During the exchange activities, Dr. Meng Xin led former participants in communications with representatives of Swiss companies in China, the Swiss Business Hub and the Commercial Section of the Embassy of Switzerland, providing an international cooperation opportunity and platform for participants.
BRICH Technology Co., Ltd. is a company for global market development and internationalization service. It provides companies with global landing solutions and functions as a one-stop service by providing specialized services in management, law, public relations, government relations, technology transfer and upgrading in the process of internationalization. This creates a practical international cooperation channel for enterprises and solves practical problems with going abroad.
With the vision of connecting global technology projects and the purpose of promoting the Zhongguancun brand, BRICH provides one-stop solutions and services for science and technology enterprises to build a firm bridge for international communication and implement global business strategies.